Broken Knee Compensation Claims In The UK
By Marlon Madison. Last Updated 14th October 2022. Were you involved in an accident because someone else breached their duty of care towards you? Did you suffer from a broken knee as a result? If so, you may be able to make a claim for broken knee compensation.  
Our knees are an important part of our body. They help us to walk, and when we injure our knees, it can have a real impact on our mobility and stop us from moving around. 
The knee is also a very complex joint. It is made up of three bones and also contains a protective layer of cartilage. If any of the bones that make up the knee are damaged or fractured, you should seek medical attention right away. If the injury happened because someone who owed you a duty of care was negligent, you may be able to claim.
Broken Knee Compensation Claims In The UK
Compensation aims to help you return to how you were before the fracture as much as is possible. This guide will answer these questions and offer further information about how you can make a personal injury claim.
Our friendly team of advisers are on hand 24/7 to offer you free legal advice. They can assess how much compensation you may be able to claim. If you have a valid case, they can connect you with our expert panel of personal injury lawyers who can represent you on a No Win No Fee basis.
Get In Touch With Our Team 
Our team of advisers would be happy to have a chat with you to learn more about your situation. You can get in touch with them by:
Calling them on 020 3870 4868. An adviser is always available to offer you free legal advice.

Filling in our

online claims form

. One of our advisers will respond at your earliest convenience.

Chat with an adviser via our live chat pop-up box for an instant response. 
Services And Information
Everything You Need To Know About Broken Knee Compensation Claims
To begin with, this article will look at what a broken knee is and discuss the knee joint anatomy. Next, there will be a section exploring the broken knee symptoms you may experience, as well as the causes of a broken knee cap. 
The article will then move onto our personal injury claims calculator table to assess how much compensation some injuries could be worth. Furthermore, the guide will look at how broken knee injuries are diagnosed and treated. 
After this, the article will discuss what a missed broken knee injury is and why broken knees can be misdiagnosed. Next, a section will explore the limitation period for broken knee injury claims to assess how much time you may have left to claim.
Moreover, the guide will explain what steps you can take after suffering a knee injury. There will then be a discussion about No Win No Fee agreements and the benefits of this kind of agreement when funding legal representation.
Finally, there will be some frequently asked questions about injuries and claims of this nature. This aims to ensure you leave this guide with as much information, knowledge and advice as possible about filing a knee injury claim. 
What Is A Broken Knee?
A broken knee will often cause pain, discomfort and difficulty walking. However, knee fractures can vary in severity, and some may cause more long-term problems than others. They can also be categorised in a number of ways.
One of the ways a fracture can be categorised is displaced and non-displaced. A non-displaced fracture is one where the parts of the bone that are broken are still in position with one another. A displaced fracture is where these parts have moved out of alignment. With displayed fractures, the bones will usually have to be moved back into position in order for them to heal.
Fractures can also be identified as open or closed. Open fractures are ones where the skin has been broken, where closed fractures do not break the skin. An open fracture may pose a greater risk of infection in the soft tissue and bone than a closed one.
The table below includes information from RIDDOR about the number of non-fatal injuries reported to RIDDOR in 2015-2020. It shows that the most non-fatal injuries to employees and the self-employed happened in 2015/16, with 73,441 injuries. On the other hand, the lowest number of work-related injuries were reported in 2019/20, with 65,427.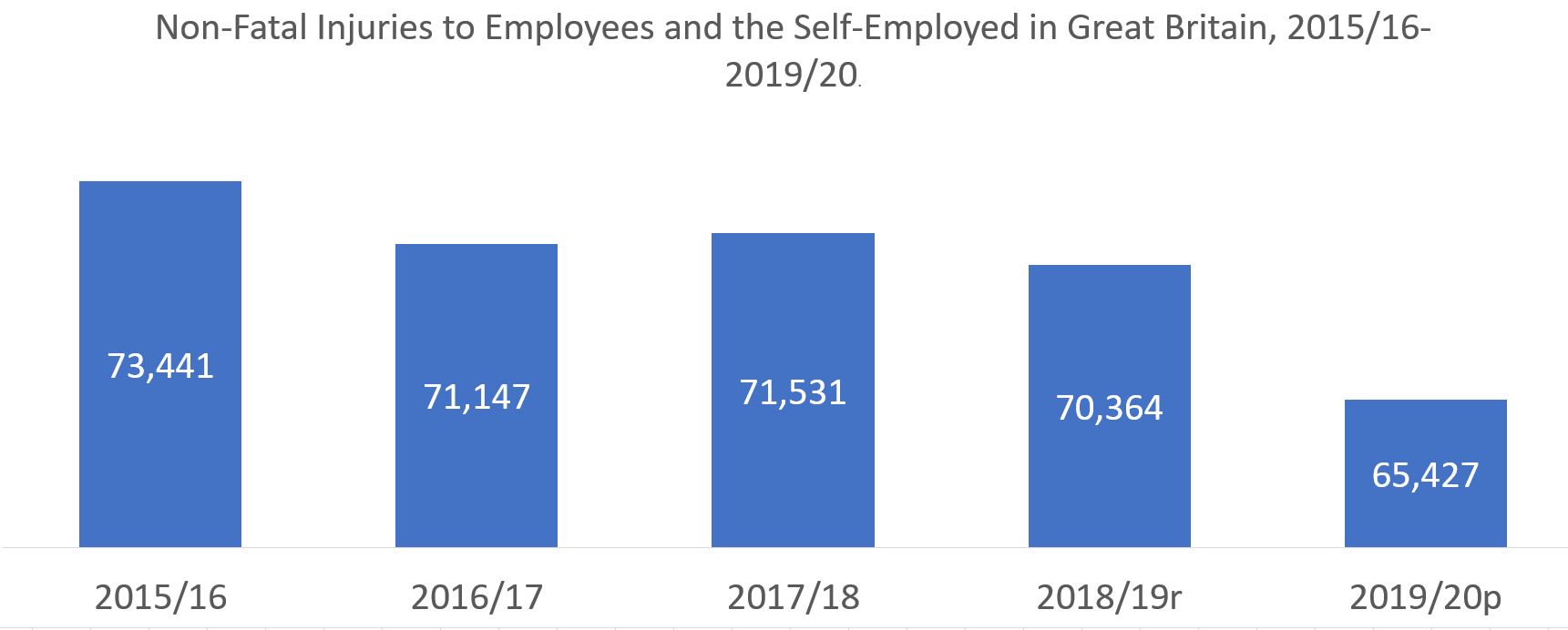 Knee Joint Anatomy
The knee connects the tibia (shin bone) and femur (thigh bone). The knee joint is also made up of the fibula (a small bone situated next to the tibia) and the patella (the knee cap). It is one of the largest and most complicated joints in the body. 
The knee bones and leg muscles work together to move the knee joint. They are helped by four ligaments: 
Anterior cruciate ligament. This stops the femur from sliding back onto the tibia and the tibia from sliding forward.
Posterior cruciate ligament. This stops the femur from sliding forwards on the tibia.
Lateral and medial collateral ligaments. These stop the femur from sliding sideways.
There are also multiple sacs filled with fluid (known as bursae) that help promote smooth knee movement. In addition to this, cartilage helps to cushion the knee bones move smoothly over one another and absorb shock. 
Broken Knee Symptoms
Some kneecap fracture symptoms include:
Swelling of the knee

Significant pain of the knee cap

Struggling to extend or raise the leg

The kneecap feeling tender when pressed on

Pain when moving the knee in either direction

A change in shape to the knee
If you experience any of these symptoms, you should seek medical attention so that you can get the treatment you need. In cases of a severe fracture, you may need surgery to help the bones heal. 
Failing to seek medical attention after an accident that fractures your kneecap can cause serious long-term problems. Your bones may start to heal in the wrong position, and in some cases, you may develop arthritis in the affected joint.
If you'd like to make a personal injury claim regarding your broken knee cap, you can contact our friendly team of advisers today for free legal advice.
Causes Of A Broken Knee Cap
When you have been involved in an accident where you fracture your knee, it may be because someone has breached their duty of care towards you. Some situations where a broken knee may have happened because of a breach of duty include:
Road traffic accidents.
Being involved in a car accident can cause a broken knee injury, depending on how forceful the crash is. If the car comes to a sudden halt when it crashes, you can be lunged forward and hit your knee on the dashboard. If the accident occurred because the other driver failed to follow the duty of care outlined in the Highway Code, you might be able to claim.  
The person in control of a public place has a duty of care towards everyone who visits the space. This is outlined in the Occupiers' Liability Act 1957. If they fail to do this, for instance, if a wet floor is not cleaned up or signposted and someone has a slip, trip or fall accident and breaks their knee as a result, this would be an example of a breach of duty of care. 
Your employer has a duty of care to safeguard and protect you at work, so breaching this duty of care means they're negligent. This duty of care is outlined in the Health and Safety at Work etc. Act 1974. For example, you may fall and break your knee at work because your employer failed to provide you with safety shoes. This would constitute a breach of duty of care. 
If you're unsure whether your accident was caused by a breach of duty of care, why not get in touch with our team today? They will be happy to offer you free legal advice about claiming for your accident.
Broken Knee Compensation Claims Calculator 
You may have noticed that some websites offer personal injury compensation calculators. These can be useful tools but often fail to capture the full range of information needed to accurately value your claim. 
Instead, we've taken up-to-date statistics from the Judicial College Guidelines to illustrate how much compensation some injuries may be worth. This is a publication that includes guideline compensation amounts for a number of different injuries. Please bear in mind that these are not guarantees; your compensation will be awarded depending on your individual circumstances, and we have included this table as an example only. 
| Injury: | Severity: | Notes: | Compensation: |
| --- | --- | --- | --- |
| Leg injury | Above-knee amputation of one leg | Awarded bracket depends on the level of amputation and severity of phantom pains. Any associated psychological problems and the effectiveness of a prosthetic will also be taken into account. | £98,380 to £129,010 |
| Leg Injury | Below-knee amputation of one leg | Top end of the bracket would be for problematic amputations, for example if the person is conscious during the amputation causing them trauma. | £91,950 to £124,800 |
| Leg Injury | The most serious injuries short of amputation | Some injuries are awarded a similar level as amputations as they're so serious and traumatic. For example, where extensive bone grafting has been undertaken because the fractures have not united. | £90,320 to £127,530 |
| Leg Injury | Moderate | Severe crushing injuries or complicated or multiple fractures to a single limb. | £26,050 to £36,790 |
| Knee Injuries | Severe (i) | Joint disruption, osteoarthritis, ligamentous damage, and lengthy treatment. | £65,440 to £90,290 |
| Knee Injuries | Moderate (i) | Dislocation, torn cartilage, or meniscus resulting in minor instability, weakness, or wasting. | £13,920 to £24,580 |
When you're awarded compensation, your settlement may be split into two different kinds of damages. These are known as general and special damages.
General damages compensate for the injury itself and the mental and physical impact it's had on your life. The bracket awarded depends on the injury severity and treatment length. This is the part of the compensation that is included in the table above.
Special damages compensate for the financial impact the injury has had on your life. For example, you may have had to pay out of pocket to travel to and from medical appointments. You may have also experienced a loss of earnings because you had to take time off work to recover.
It will be difficult to claim special damages without evidence, so you should always keep records of any costs you incur. For example, you may be able to show bank statements and payslips to support your claim for special damages. 
Diagnosing And Treating Broken Knee Injuries
If you suspect you've suffered a broken knee injury, you should attend A&E or your local urgent treatment centre (sometimes called a walk-in centre or minor injury unit). The medical professionals there can check if you've fractured your knee.
Your doctor may perform a physical examination to see if your knee is fractured and how severe the fracture is. These physical examinations may consist of touching your knee to see where the pain is located and how severe the pain is. Furthermore, they may ask you to extend or lift your leg to see if it's possible and whether or not it's painful. 
Not every fracture requires an X-ray, but your doctor may perform one if necessary. Furthermore, you may need more scans (such as an MRI or CT scan) to produce clearer and more intricate images of your bones. 
The treatment for a broken kneecap may include:
Cast or splint: The doctor may place your knee in a cast or splint to keep the bones in the correct place whilst they heal. 
Surgery: If you have a displaced fracture, you may need surgery to correct this. If necessary, pins and plates may be inserted to hold your bones in position as they heal. 
The amount of time it takes your fracture to heal will be dependant on a number of factors, such as how severe your fracture was and whether surgery was required. Some serious breaks may even result in you experiencing long-term problems with your knee.
What Is A Missed Broken Knee Injury?
A missed broken knee injury is one where your doctor has failed to recognise the fracture that you are suffering from. A misdiagnosis of a knee fracture happens when your doctor mistakenly diagnoses your knee fracture as another condition completely.
All doctors and medical professionals have an automatic duty of care towards their patients. This means that they must administer the appropriate standard of care expected of their profession.
Sometimes, a misdiagnosis or missed diagnosis can happen even when a doctor is administering an appropriate level of care. But if the misdiagnosis you received was the result of medical negligence, you may be able to claim. Medical negligence describes a situation in which the care you received fell below an acceptable standard.
To decide whether or not a doctor could be considered negligent, the courts will use something called the Bolam test. This involves asking a panel of the medical professional's peers whether or not they would have acted in the same way as the doctor in question.
If they would have acted the same way, then the doctor would not be considered negligent even if their action caused further harm. If they confirm that they would have acted differently, however, the doctor would be considered negligent.
A missed or misdiagnosed knee fracture could result in you not receiving the care you need for your broken knee. Similarly, if your knee fracture is mistakenly diagnosed as something else, you may be given treatment for a condition that you don't have, which could be harmful. 
Why Are Broken Knees Misdiagnosed?
There are a number of reasons that a knee fracture might be misdiagnosed. These include:
Failure to arrange the right diagnostic tests like X-rays, CT scans and MRI scans.
Carrying out an X-ray, CT scan or MRI scan incorrectly.
Reading the results of an X-ray, CT scan or MRI scan incorrectly.
Losing the results of a diagnostic test or mixing up the results with those of another patient.
It's important to note that if you're making a medical negligence claim for a missed knee fracture, you will only be compensated for the additional harm caused by negligence and not the suffering you experienced overall.
For example, if you fractured your knee, then you are likely to experience some pain and suffering as a result, and this would not be included in your compensation award for a medical negligence claim. Instead, it will be ascertained how much of the pain you experienced was caused by the negligence as opposed to the initial injury, and you will be compensated accordingly.
Is There A Limitation Period For Broken Knee Injury Claims?
The usual personal injury claims time limit is three years. The time limit for medical negligence claims is also generally three years. That means three years from the date of the injury or three years from when you became aware that someone else's negligence has caused you avoidable harm. However, there are some exceptions to this:
Child accident claims: If you're under 18, the three-year time limit begins on your 18th birthday. Alternatively, someone you trust can act as a

litigation friend

to pursue the claim on your behalf at any point while you're still underage

. The compensation money will then be put into a bank account for you to access when you're 18.

Mentally incapacitated: If you lack the mental capacity to make a personal injury claim, then a litigation friend can claim on your behalf. In the event that you regain the mental capacity to claim yourself, the three-year time limit will start; otherwise, it's suspended indefinitely.  
If you have any questions about personal injury claims time limits, you can get in touch with our expert team of advisers. They can advise you on how long you have left to start a claim.
Knee Injury Claims – Do I Need Evidence?
It is important you have sufficient evidence in order to make a successful knee injury claim. You will need evidence of the negligence, the injury, and any potential financial losses. Examples of evidence can include:
Pictures or footage that shows how your accident had happened
Correspondence such as texts or emails that could show negligence by either your employer or your medical providers
The contact details of witnesses to the events that led to your injury so they can provide a statement
Medical reports of your injury
Records of your financial losses
Please reach out to advisers to ask any questions you may have about evidence that could be useful in knee injury claims, or for information about knee injury compensation awards.
Claim For A Broken Knee On A No Win No Fee Basis 
A No Win No Fee agreement is a contractual agreement between you and your lawyer stating that you don't have to pay any of your solicitor's fees if your case fails. You also won't be asked to pay them any costs upfront or while the claim is ongoing. 
If your case succeeds, your solicitor will deduct a small, legally capped percentage of your compensation. This will be discussed with you beforehand and is designed to make sure you always receive the majority of the compensation awarded to you. 
If you'd like to learn more about No Win No Fee agreements, you can contact our team of advisers by:
Giving them a ring on 020 3870 4868. An adviser will be happy to have a chat with you.

Completing our

online claims form

to receive a reply at whatever time best suits you.

Chatting with an adviser over our live chat pop-up box for an immediate reply. 
An adviser can connect you with a personal injury lawyer from our panel if they feel you have a valid claim. All the lawyers on our panel offer representation on a No Win No Fee basis. 
Related Guides
Agency Worker Injury Claims Guide For Compensation – If you're an agency worker and have suffered a workplace injury due to your employer's negligence, our guide explores how you can make a personal injury claim.
How To Claim For A Motorcycle Accident Without Insurance – Our article discusses how you can receive compensation for a motorcycle accident with no insurance.
Fractured And Broken Jaw Injury Compensation – Have you suffered a fractured jaw due to an accident that wasn't your fault? Our guide explains how you can make a personal injury claim to gain compensation.
How Do I Know If I've Broken A Bone? – If you suspect you may have suffered a broken bone, this NHS guide includes the signs, treatment, and recovery process for this injury.
Advice After A Knee Cap (Patella) Injury – This NHS guide explains the symptoms, treatment plan, and healing times of a knee cap fracture.
Royal Society for the Prevention of Accidents– RoSPA are a charity that aims to provide skills and knowledge to reduce accidents causing serious injuries.
FAQs About Broken Knee Injury Claims
How much compensation will I get for a broken kneecap in the UK?
Each broken kneecap injury is unique, so a variety of factors can contribute to how much compensation you may receive. You can chat with our team of advisers to find out more about how much your claim could be worth.
How long does it take for compensation to pay out?
The amount of time it takes your claim to settle can vary greatly. Simple claims where there is no dispute over liability can be settled in a matter of months, whereas more complicated claims can take much longer. 
How do I know if I have a broken knee?
If your knee is bruised, swollen, and painful to touch, you may have a broken knee injury. You should seek medical attention to find out for sure.
Thank you for reading our guide on making a claim for a broken knee.
Guide by HL
Checked by NC