Can I Claim If I Suffered A Broken Bone At Work?
Have you suffered a broken bone at work because of a failure of health and safety standards? Did your employer neglect to properly apply their legal duty in a way that resulted in you being injured?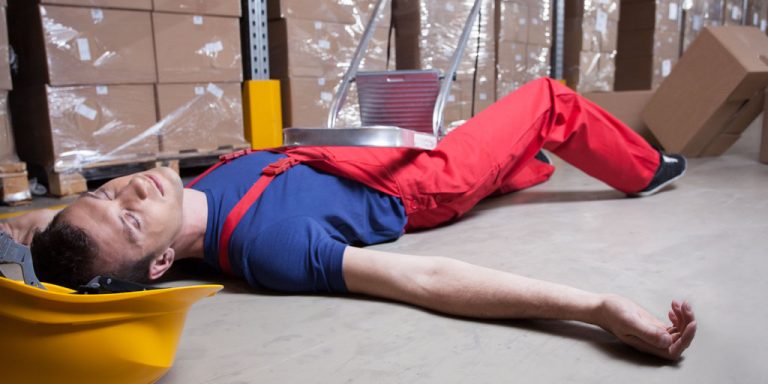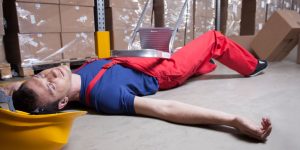 What duty does an employer actually have to prevent you from being injured in this way?
We explain how you could start a personal injury claim for a fractured or broken bone that happened in an accident at work due to your employer being negligent. Perhaps you would like to discuss your concerns now? If so, please feel free to get in touch with our advisors by:
Calling on 0203 870 4864 to discuss your situation
Request a 'call back' or use the 'contact us' option
Access immediate free advice through our 'live support' option
Select A Section
Causes Of Serious Breaks or Fractures
A broken bone at work could be the result of a wide array of causes. It's important to remember that not every accident in the workplace is automatically negligence and it can be possible to fracture a bone in an accident where no one is at fault.
Personal injury claims can only be made if there is solid evidence to suggest the accident happened because of a failure on a company's part to apply health and safety laws as detailed in Section 2 of the Health and Safety At Work etc Act 1974,
This law requires all employers to reduce or remove risks and hazards from their workplaces as much as reasonably practicable to protect employees' safety. Failure to apply it properly could result in:
Breaking an arm or leg by a slip, trip or fall caused because of uneven floors or obstacles in walkways
A broken clavicle or shoulder from falling materials
Colles and other wrist fractures created by impact with broken fittings or doors
Pelvic fractures caused by slipping on a wet, unmarked floor during cleaning
Twisted or fractured ankles acquired because of obstructions or poorly lit areas
Tibia and fibula bone breaks from a collision with a forklift truck or other motorised machinery.
Fractured or Broken Bones At Work
The chart below is drawn from statistics provided by RIDSITE / RIDDOR (Reporting of Injuries, Diseases, and Dangerous Occurrences Regulations) and shows the prevalence of non-fatal broken bone and fracture incidents from a total of 51,211 reported non fatal injuries during the period 2020/21: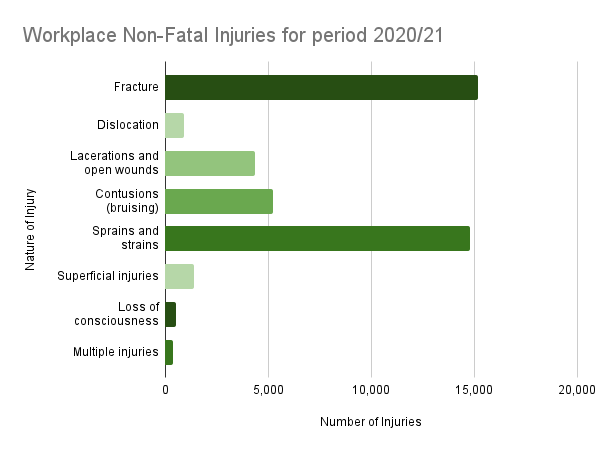 Fractures were clearly one of the highest reported injuries at work, accounting for 15,159 cases.
Source: https://www.hse.gov.uk/statistics/tables/index.htm
Types Of Broken Bone At Work
A fractured or broken bone at work can be caused by many different factors, either in the course of an unavoidable accident or because of negligence. In addition to this, the bone itself can fracture in several different ways and in more than one way. For example:
Transverse fracture – are breaks that are in a straight line 90 degree angle
Spiral fracture – happens due to the bone twisting
'Greenstick' this type of fracture happens when the bone is bent
Stress or 'hairline' fractures tend to be of a less serious nature
Compression fractures – are where the bones are crushed together in the vertebrae
Oblique fractures occur when the bone is broken in a diagonal snap
Impacted fractures happen when the bones push into each other
Segmental fractures occur when there are two breaks that leave a section of bone 'floating'
Comminuted fractures happen when the bone is broken into several pieces
Avulsion fractures – are when a fragment of bone attached to a tendon breaks away
The NHS offers guidance on broken or fractured bones and the correct course of treatment for them. Whatever the precise nature of the accident, a broken bone of any sort at work is a serious injury and must receive prompt medical attention. Furthermore, fractures (other than fingers or toes) are 'reportable injuries' that must be reported by your employer through RIDDOR.
How Do You Prove Your Claim?
As soon as you are satisfied that your broken bone at work injury was caused by negligent health and safety practices, you may be thinking about how to claim? It's possible to do this on your own or with the expert guidance of a personal injury solicitor. Either way, evidence is an essential part. With this in mind, start the following:
Always seek medical advice
Ensure the accident book is completed
Take photos or request CCTV of the area where your accident happened
Ask any witnesses if they would give a statement at a later date
Keep a diary of events
Consider engaging legal representation
Suing your employer for their negligence may feel intimidating to attempt alone. So, if you wish, speak to our team and they can answer any questions you may have about doing this.
The Stages Of Claiming For A Broken Bone At Work
A personal injury claim must meet certain criteria. When attempting to negotiate with the defendant 'pre-action' protocols' will be carried out and they aim to promote an early exchange of relevant information to reach a resolution before the need to go to court. These include:
Issuing a formal notice to the defendant about the claim
Describing the injuries and their cause
Waiting for their response to this letter
Allowing them to fully investigate the incident

Communicating in a genuine and constructive way

Calling in the findings of an expert medical assessment of the injuries.
Mediation and Arbitration
As a final stage, mediation and arbitration can also help. This is where an intermediary can act as a 'go-between' for the two parties and help them facilitate a resolution. Or in some cases, third-party 'arbitration' decides the dispute for them.
Time Limits
Under the legislation called the Limitation Act 1980, there is a three-year period for starting a personal injury claim. This 36 month period can start from either the date you became aware of the injury or the actual day it happened. There is an extension for minors where the three-year accident at work time limit can begin from their 18th birthday, allowing them until 21 to claim.
In addition to this, a concerned party can start a claim on behalf of someone who may lack the capacity to do so themselves. This is called a 'litigation friend'. Speak with our advisors for more information on this.
Calculating Damages For A Broken Bone At Work
The independent medical assessment can be arranged by a personal injury lawyer for you. This report allows your injuries to be compared with those listed in the Judicial College Guidelines which is a tool that provides compensation amounts brackets for pain, suffering, and loss of amenity called 'general damages' like so:
| Bone fracture injury | Severity | JC Guideline award bracket | |
| --- | --- | --- | --- |
| Collarbone | Serious (e) | £4,830 to £11,490 | Depends of level of disability or residual symptoms |
| Arm | Other arm injuries (b) | £36,770 to £56,180 | Serious forearm fractures leaving permanent disability |
| Elbow | Less severe (b) | £14,690 to £30,050 | Significant levels of impaired function but falling short of surgery |
| Wrist | Less severe (c) | £11,820 to £22,990 | Cases that can involve some permanent disability or stiffness |
| Back | Severe (a) (ii) | £69,600 to £82,980 | Exceptional cases involving loss of sensation or mobility |
| Pelvis | Moderate (b) (i) | £24,950 to £36,770 | An injury that is significant but there is no major disability |
| Leg | Less serious (c) (i) | £16,860 to £26,050 | Fractures that leave an incomplete recovery |
| Knee | Severe (a) (ii) | £48,920 to £65,440 | Leg fractures extending to the knee causing limited movement and arthritis risk |
| Ankle | Moderate (c) | £12,900 to £24,950 | Fractures that cause difficulty walking or standing |
| Shoulder | Serious (b) | £11,980 to £18,020 | Dislocations and nerve damage that can give persisting symptoms even after surgery |
These are not guarantees, only guidelines. They represent a starting point for calculating broken bone at work settlement amounts.
Special damages
Do you have receipts or invoices that show you needed to spend money to cope with the injury? If so, these amounts could be included in your settlement request. Matters such as loss of earnings, medical bills, travel costs, and help needed at home could all be reimbursed. Speak with our team for further information about other special damages for your broken bone at work claim.
Speak To An Expert Today
You could fund the services of a solicitor with a No Win No Fee agreement. Call our team and they will explain how a member of our panel of personal injury specialists could take up your case like this at no initial fee, or any as the case moves ahead.
If the claim succeeds, you only need to pay a maximum 25% percentage of your settlement to cover their costs. If the claim fails, you owe a No Win No Fee solicitor nothing at all. So why not start now by:
Calling us on 0203 870 4864
Using the 'contact us' option
Or accessing our 'live support' option to discuss your broken bone at work claim
References
Writer FE
Checked by IE.